You must have a green or red belay card
to be able to belay another person
or if you want to use our autobelays
Toprope Course (green card)
The course requires no prior knowledge and is a good first course if you want to start climbing!
On the toprope course you learn:
how to belay on toprope, about the equipment, climbing technique, grading system, safety at indoor climbing and more.

Price:
Set times(info below): 850sek/person
Other time: 1 050sek/person
Time: 2 occasions (different days),
2 hours each time.
Shoes and harness are included in the price.
Book at least 5 days in advance.
Our set times:
(Registration Required)
Part 1:
Monday
17.00-19.00
Tuesday
19.15-21.15
Thursday
19.15-21.15


Part 2:
Monday
19.15-21.15
Tuesday
17.00-19.00
Thursday
17.00-19.00

Wednesday
Part 1 - even weeks
Part 2 - odd weeks
19.15-21.15

(Please note that you need to go
Part 1 & part 2 on different days.)
If none of these times fit, you can call
or email us to schedule a
toprope course at another time.
Then the cost of the course is
950 SEK/person and
you must be at least 2 persons.
Lead Course (red card)
Requirement: Topropecard (green card)
Recommended to be able to climb at least 6a on toprope.

On a Leadcourse you'll learn how to belay and climb on lead indoors.
Price: 900sek/person
(If you have taken the toprope course at Klätterdomen, 2x2 hours, you only pay 800sek/person)


Time: 3 hours
Shoes and harness are included in the price.
Book at least 10 days in advance.
Book a Leadcourse

We have no set times for lead courses,
you must call or email us to
book a leadcourse.
To book you must be at least 2 persons.

Are you on your own you can jump in on a
leadcourse that is already booked by
someone else.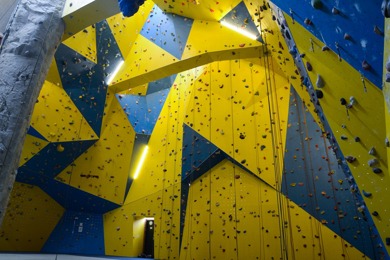 Note!
If you are under 18 years old you must have parental consent to go the toprope/lead course.

Recommended minimum age:
13 years.

Certification
Klätterdomen is certified by the Swedish Climbing Association.
This means that we follow the Swedish Climbing standards.
All of our instructors are trained and certified indoor instructors.
The certification means that anyone who climbs in Klätterdomen are insured.
More info about certification available on www.bergsport.se
Contact:
Email:
klatterdomengbg@gmail.com

Phone hours:
Weekdays: 08.15-09.15
Phone:031-48 97 70

Please contact us via email.

Address:
Övre Kaserngården 2
415 28 Göteborg
Sweden