KlätterDomen is the biggest climbing gym in Gothenburg
and one of the biggest in Sweden and Scandinavia.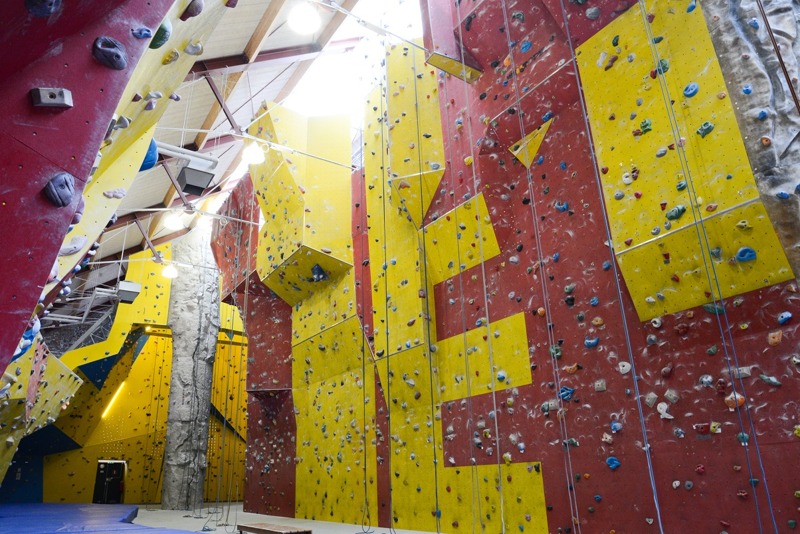 Klätterdomen has 1600 square meter climbingwalls for
toprope climbing and lead climbing.
400 square meter are steep that hang over up to 8.5 meters,
with routes that are up to 25 meters long.
We have 55 topropes on walls that are between 11 - 14.5 meters high.
Vertical, slabs, overhangs, cracks, stalactites, texturewalls, Drytooling,
2 Pillars (one is a copy of an outdoor rock!), Etc.
We have 7 AutoBelays.
AutoBelay belays for you, so if you have the toprope card you can climb on the ropewalls by yourself. More "info"
Requirement: Topropecard
We have two large boulder departments:
One on the upper level that is 40 m wide and one on the lower floor which is 30 m wide.
They are 4 to 5.5 m high. The walls have slabs, roof overhangs, cracks, waves etc.
Here we have changing rooms with showers and lockers. More lockers are also
available in the hall.
Upstairs there is also a gymsection, which have:
campus board, campusladder, pullupbar, several variants of fingerboards, rowing machines, rings, bench press, dumbbells and barbells.
Like us on facebook, where you'll find out everything that's happening here at Klätterdomen, when new routes and boulders are built, contests, new products, etc.
www.facebook.com/klatterdomen
Mon-Thurs 12.00-22.00
Friday 12.00-21.00
Weekends 11.00-19.00
SUMMER
June, July & August
Mon - Thurs: 12.00 - 21.00
Friday: 12.00 - 20.00
Weekends: 12.00 - 19.00
Exceptional opening hours:
The gym is certified by the Swedish Climbing Association. The certification means that everyone that climbs in Klätterdomen are insured. The certification is in
three levels: bronze, silver and gold. Klätterdomen is one of the few gyms in Sweden with Gold Certification.
Email:
klatterdomengbg@gmail.com

Phone hours:
Weekdays: 08.15-09.15
Phone:031-48 97 70

Please contact us via email.

Address:
Övre Kaserngården 2
415 28 Göteborg
Sweden